Gazprom Ufa has implemented Pergam LMS for their gas
Problem
The most important thing during Compressor Station operation is early detection and localization of gas leaks that could be on the process equipment and high pressure piping. Periodic monitoring of air on the industrial sites of gas transportation facilities are made by regular rounds of staff on duty, which carries out sampling from process equipment in locations where gas accumulations could happens in the event of a leak.
Sampling is performed periodically using portable gas analyzers and provides periodical monitoring of ambient air. In addition, access to some technological components, such as compressor stations connecting nodes can be complicated due to the significant distance from the core infrastructure, the snow drifts in the winter. In such cases, most of the time staff spends on access to technology nodes. All these factors lead to the issue that the staff cannot provide full control of the equipment and to detect leaks in time, which could be a problem and lead to an emergency situation. LLC «Gazprom Transgaz Ufa» are took control under the gas transportation system with a branched structure (9 industrial branches). In addition, the company is responsible to the huge territory of pipeline and gas facilities. All this demanded to start the search for new technical solutions in the field of leak detection.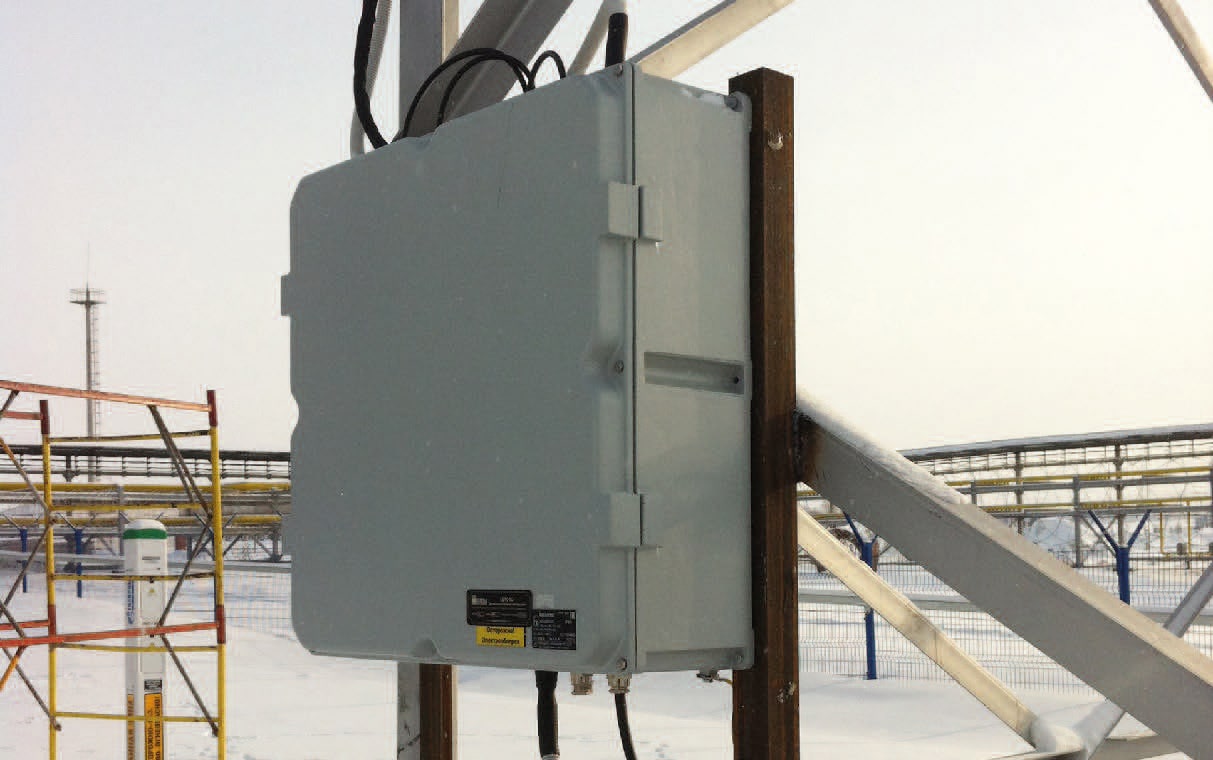 LMS communication box
Solution
The most effective solution is to use a remote laser methane detection method. The laser detectors, manufactured by Pergam-Engineering, is widely used in Public Joint Stock Company Gazprom for a helicopter survey of transmission pipelines. The operation of the laser detector in a compressor station demanded revision and adaptation for stationary applications. As a result, LMS (Laser Monitoring System) has been developed and put into operation as a stationary system of methane detection in the technological sites atmosphere and compressor stations. The main goal during creation was to achieve the following main objectives:
Instant leak detection (short response time);
Immediately notification to station personnel;
Events log (automatically records all events + system diagnostics);
Control the technology equipment state;
Integration into SCADA system.
The methane detection system in air compressor stations technological sites called LMS is designed to detect methane in the atmospheric air. System alarms automatically in case of exceeding pre-determined levels. The device measures the total concentration of the gas in the laser beam, which is reflected by the topographical object (earth, grass, trees, asphalt, brick, etc.), that could located at a distance of 150 m from the LMS optical unit.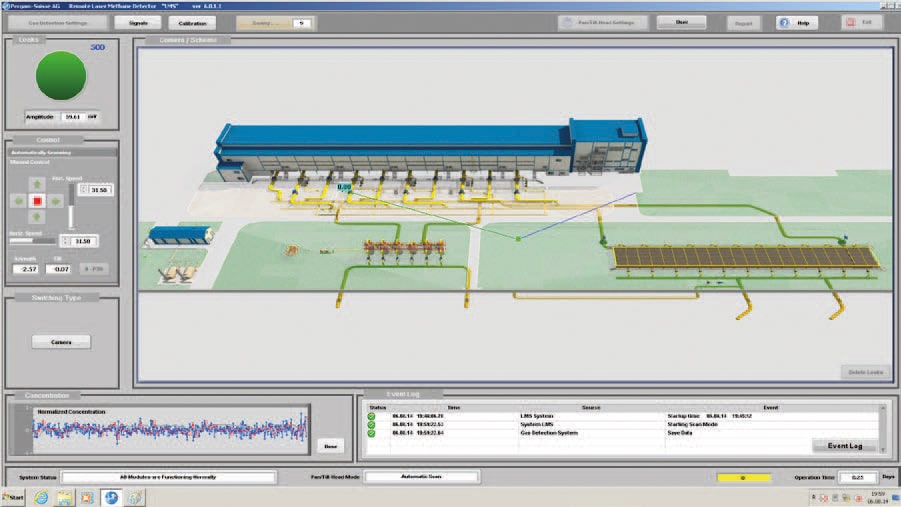 Main window with facility scheme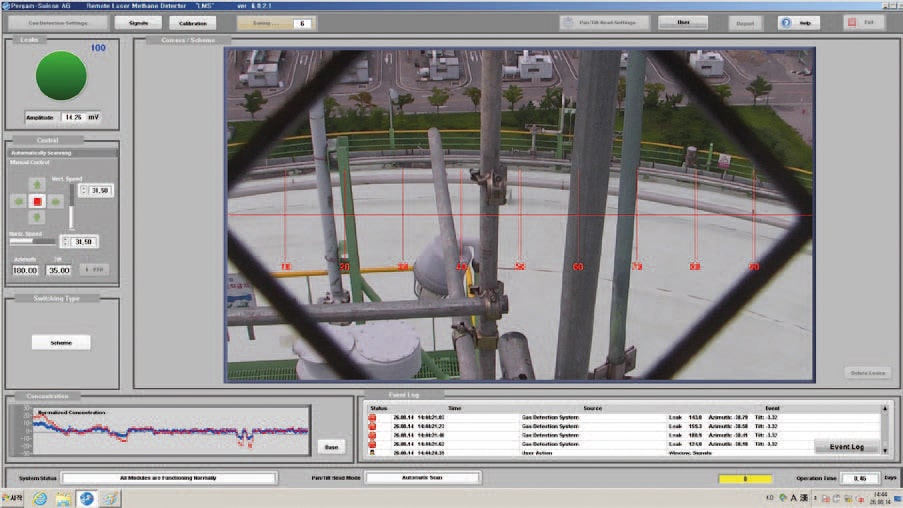 Camera view
The main elements of the system LMS is an optical unit, PTZ, rack with network equipment, fiber-optic communication lines and operator's workplace with PC. Optical unit is installed permanently on PTZ in such way that the optical axis of the receiving channel has been directed directly to the important object, which is supposed to be controlled. LMS is controlled automatic by using the PC with special software and preset monitoring road.

Remote control center
PC is installed in the operator room and connected with the components of the optical unit (laser, photodetectors and HD camera) via a fiber optic link. System is managed by using the appropriate software created by Pergam. The calculated instantaneous methane concentrations are depicted on a real time graph, with simultaneous data recording into the computer memory and alarm events when a gas leak is detected. All data is stored in computer memory for post-processing and reporting. The system can be operated in manual and automatic modes. In automatic mode, the detector continuously scans the area of the compressor plant according to a predetermined route. If a leak is detected, the system stops scanning and alerts personnel immediately.
«We used LMS during three year, and we are absolutely satisfied with the LMS system which allows us to increase our safety standard further for remote leak detection. The system is very reliable and we have decided to install LMS in our other compressor stations. The implementation has allowed us to reduce the surveillance and maintenance costs from our compressor stations» — Romanenkov Pavel Georgievich, Deputy General Director of Production, LLC «Gazprom Transgaz Ufa»
Leak detection at gas compressor stations and underground gas storage facilities
---
In accordance with GAZPROM regulations, every two hours visual inspection of the gas compressor station takes place. Places where gas could have accumulated are checked using instrumental control. The main problems of this method are rare walkarounds and the human factor.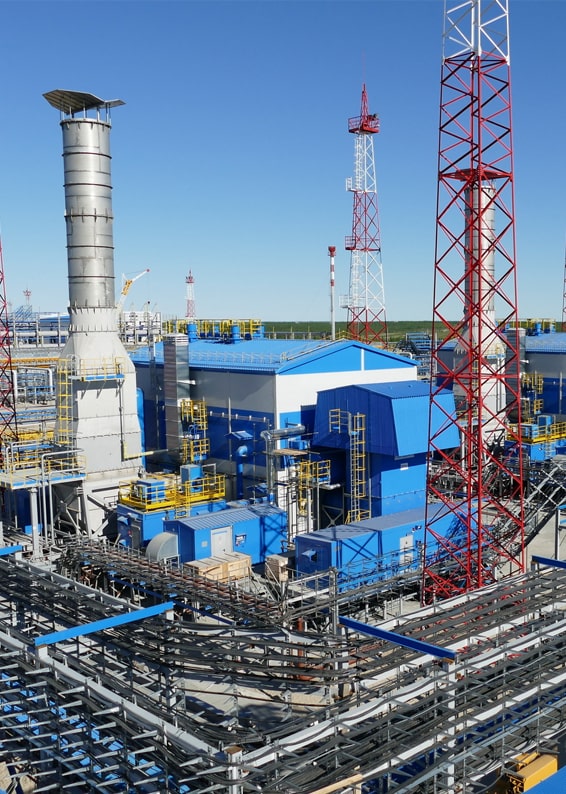 Gas compressor stations and underground gas storage facilities fixed inspection
---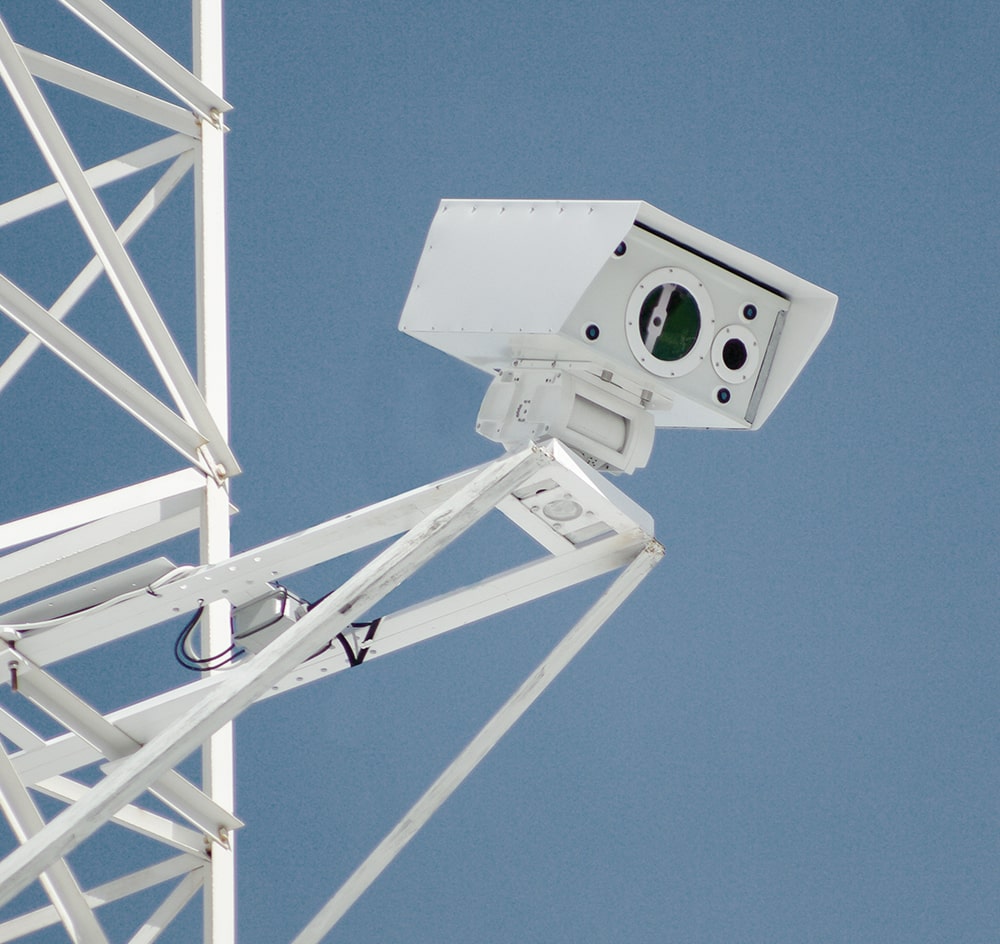 LMS-Remote (explosion proof)
Round-the-clock monitoring for gas pollution of level processing areas.
Explosion-proof gas leak detector. Detection range is 150 m (if the signal is reflected from a topographic object, a piping manifold, buildings, etc.) and up to 1 km using special reflectors. At present 11 LMS systems are used in GAZPROM and 7 systems ae used within LNG facilities of Republic of Korea.
In accordance with GAZPROM resolution in 2013 we invented a LMS, a fixed version of the legendary airborne system. The system monitors the whole territory of the gas compressor station in the automatic mode 24/7.
Photos of the device at facilities
---
LMS specifications
---
Max. detection range
150 m (for the fixed installation version of the retroreflector system is up to 1 km)
Scanning angles
In azimuth 360°, in elevation ±40°
Measurement duration
0.02 sec; 0.1 sec (simultaneously)
Threshold sensitivity averaging 0.1 sec
from the distance of 50 m
25 ppm×m

*

from the distance of 100 m
100 ppm×m

*

from the distance of 150 m
400 ppm×m

*

Laser wavelength (safe for human eyes)
1.65 micron
Power source
DC 22-32 V, 280 W
Protection class
IP66
Operation temperature
-50 to 70 °C
Video camera
1920×1080/30p high resolution; 200x zoom lens
System operation video
---
*
- ppm×m - Gas concentration is measured in ppm, 'parts per million' by volume. If a room measuring 100m × 100m × 100m (1 million cubic metres) has 10 cubic metres of air replaced by a pure gas, then the gas concentration is expressed as 10ppm. A point sensor measures directly in ppm.
Aerial patrolling
---
Portable and handheld Gas Detectors
---
Contact Us
---
Phone: +41 43 268 43 35
Email:

[email protected]

No D-U-N-S: 481967615
Address: Dorfstrasse 7, 8802 Kilchberg, Switzerland

Contact Us
---
Phone: +41 43 268 43 35
Email:

[email protected]

No D-U-N-S: 481967615
Address: Dorfstrasse 7, 8802 Kilchberg, Switzerland